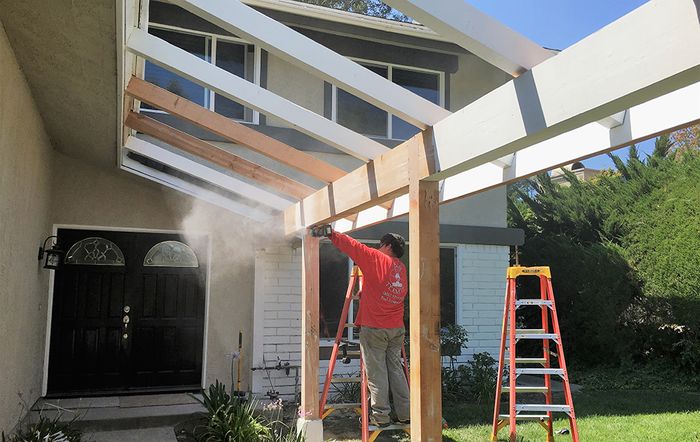 Damaged Wood Repair
Termite infestations typically remain untreated until major damage becomes obvious. Homes in the state of California are primarily constructed of wood, however, wooden framed homes are not the only structures threatened by termite activity. Homes made from other materials can host termite infestations, as these insects are capable of traveling through plaster, metal siding, drywall, & more. After termites break through, they feed on floors, ceilings and furniture within the home. The average colony can eat about a foot of 2x4 in six months, but certain species of termite can tear through homes at a much faster pace. Majority of the damages termites cause is not covered by standard homeowner insurance policies, leaving you to pick up the pieces.
Conversely, termites are not the only threat your home may possess. Decay of wood in structures is a problem in moist, humid areas as they form the necessary growth for wood destroying fungi, surface molds, & dry rot in regions of the U.S. such as in the Los Angeles & Ventura County. As most wood decaying fungi grows only on wood subject to wetting by contact with moist soil, rain, or faulty plumbing. Only by eliminating the moisture source can wood decay be completely controlled. Hence the importance of having a knowledgeable Bad Termite PMP inspect, asses, & act to resolve any structural damaging complications your home may face.
Although moderate levels of termite damage can be repaired, measures should always be taken first to ensure that the termite infestation & wood rotting fungi has been fully exterminated and that your home is protected against future infestations/infections. Taking these steps will prevent costly repairs in the future. After your termites have been eliminated from the structure, the damaged wood members will need to be restored to ensure your safety.
Bad Termite offers full wood repair services for any termite treatments or fumigations we perform. We specialize in structural construction and repair. Our team of wood repair specialists may tackle any structural damaged wood repairs as well as restore decorative elements around your home like pergolas, trellises or decks. After the construction has been completed, our wood repair team will focus on restoring damaged stucco and painting the exposed surfaces to make your home look as new. Bad Termite is licensed, bonded and insured. Contact Bad Termite toll free 1-800-593-4092 to get your termite inspection & estimate today.